Social Emotional Learning
Social Emotional Learning with Academic Development
Transforming school culture through​ ​mindfulness, positive psychology in education & SEL/SEAD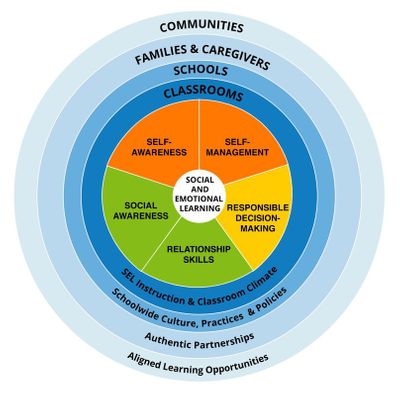 Framework for Systemic Social and Emotional Learning
Self-awareness: Know your strengths and limitations, with a well-grounded sense of confidence, optimism, and a "growth mindset."
Self-management: Effectively manage stress, control impulses, and motivate yourself to set and achieve goals.
Social awareness: Understand the perspectives of others and empathize with them, including those from diverse backgrounds and cultures.
Relationship skills: Communicate clearly, listen well, cooperate with others, resist inappropriate social pressure, negotiate conflict constructively, and seek and offer help when needed.
Responsible decision-making: Make constructive choices about personal behavior and social interactions based on ethical standards, safety, and social norms.

What is Social, Emotional, and Academic Development?
Social, emotional, and academic development is the integration of social and emotional development with academic learning in K-12 education.
Research shows that when schools fully integrate social, emotional, and academic development into K-12 education, academic performance improves, students are more engaged in school, and—as a result—they are more likely to graduate high school and attend and graduate from college. The evidence also shows that students with healthy social and emotional development are more successful in the workforce and experience greater lifetime well-being. See our fact sheet for more research and data about social, emotional, and academic development's benefits for students.
In much the same way that academic skills can be cultivated, research also demonstrates that social and emotional competencies can be nurtured and developed over the course of a student's school experience.
The goal is to prepare students who—among other things—are able to connect with others, make responsible decisions, communicate, solve problems, think critically, be resilient, persevere, and work in teams—many of the same skills that employers tell us through surveys that they are looking for in their workforce.
While a range of language is used to describe this more comprehensive approach to education, the Commission is using social, emotional, and academic development because it emphasizes the need for schools to fully integrate social, emotional, and academic development. Surveys of teachers tell us that large majorities want this integration to boost the success of students.
WHY IT MATTERS
Research demonstrates that making K-12 education a true integration of social, emotional, and academic development matters because it gives students a better chance of thriving in school, career, and life.
A student's ability to focus, manage emotions, and stay engaged, plays a large role in his or her ability to perceive, process, and ultimately learn. Students who can work collaboratively and communicate effectively are better able to harness their academic knowledge to perform in school now and in the workplace later. At the same time, these competencies help young people build the strong relationships that are such a big part of leading a fulfilling life.
WHAT IT TAKES
The Commission's charge is to explore how to make social, emotional, and academic development part of the fabric of every school. But we know that effective social, emotional, and academic development doesn't happen on its own—it requires dedicated commitment from everyone. Just as families and communities foster social, emotional, and academic development, K-12 schools must play a role by incorporating explicit and intentional instruction and rethinking school design and culture. Doing this demands an education system that recognizes how social, emotional, and academic skills and competencies are complementary, and addresses each of them with equal fervor.
Source: © The Aspen Institute